Training resumes on Wednesday, 7th February 2024
See our new members page for how to join information
Penrith Kennel and Obedience Club Inc aims to provide activities and support for those in the community who have an interest in responsible dog ownership whatever the breed.
Our members range from those who wish to train their dogs in basic obedience and achieve a well balanced socialised dog, to those who are among the top competitors in the State.

Membership is generally from the Penrith area and surrounding suburbs. Penrith is approximately 55 km west of Sydney in NSW.

The club holds a dog obedience training session each week on Wednesday evenings at Dogs NSW Complex, 44 Luddenham Rd, Orchard Hills.
The club holds an All Breeds Show and two Obedience Trials at the Dogs NSW Complex each year which are always well attended.

Training sessions are provided by experienced club members, who volunteer their time each week encouraging the aims of the club, as well as the club members to participate in many areas of dog sports, and encouraging those who wish to participate in Conformation Shows, Obedience or Rally Trialling.
We hope you find our web page informative and interesting.  Please be mindful that our website is regularly updated so we hope you will be a regular visitor.
For regular updates regarding "wet weather" training cancellations please refer to our Members Only Facebook page which will be updated with cancellation news by 5.30 pm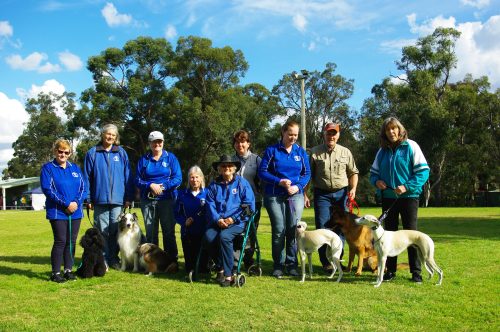 Penrith Kennel and Obedience Club Inc. is affiliated with Dogs NSW